Suppose you are thinking about renting out your house or turning your place into an Airbnb but cannot do so because of security issues. In that case, you don't need to hold back anymore because there are specific smart locks available in the market.
These smart locks have various settings that would make it easier for you to assign codes to your guests and then revoke them as soon as they leave, giving you a smooth security experience. Your guests will also feel at ease because of the safety that the technological lock provides. T
hese best smart locks for Airbnb and rentals are for a temporary security arrangement. These locks offer random and specific codes, instant notifications to you, and many more features to help if a guest forgets his code or loses his key. We have rounded up few best smart locks for Airbnb that we think will make your renting experience more reliable and comfortable; take a look and choose your fit!
August Smart Keyless-Lock
"I have bought August Keyless for my Airbnb guest house; needless to say, the limited access options work the best for me."

– Home Rook
Dimensions: 1.63 x 2.6 x 4.8 inches
Material: Metal
Color: Silver
Voltage: 1.5 volts
Item Weight: 13.9 ounces
Are you thinking about renting your place but cannot trust other people with your house's safety? What if they leave the door open? What if they don't lock the door? Security is essential, and for this purpose, August has automatic door locking and unlocking options; with the help of sensors, it recognizes when your guest has left and closed the door behind them. If you want to rely on an automatic system that will never fail you, click on the link below and get your safety assured.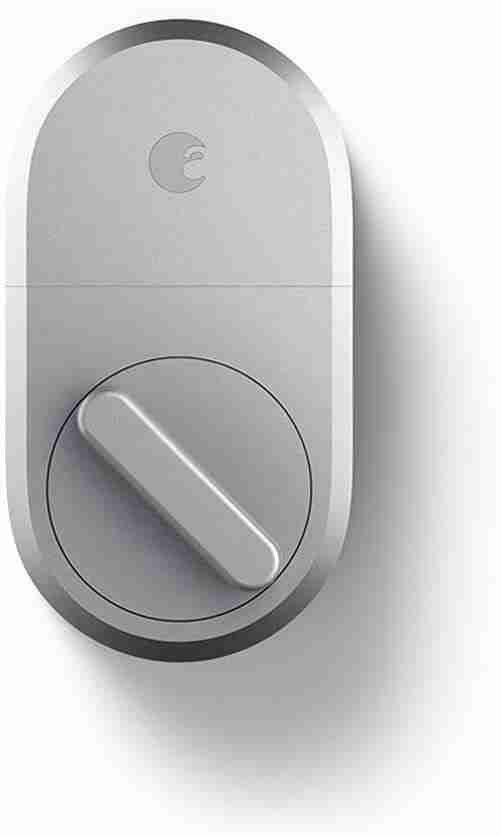 Features of the August Smart Lock for Airbnb
August is a sleek and stylish automatic smart lock. It has many other features that make it the best in the market, such as its easy compatibility with intelligent home systems like Alexa, Google Assistant, Samsung home, and many others. You never have to worry about your guests' safety and your house because you can connect the device to your smartphone and know at all times about the people entering and leaving your home.
However, if you don't want to rely on an automatic lock, then you don't have to replace it; in fact, you can connect your smart lock to your last safety and use your old keys as well. If you are not at your Airbnb and want to check in some guests from far away, you can do it easily through a smartphone's convenience and send them a digital key. You can customize the digital key as well; you can decide the grant of access for hours or days or any time you specify.
Another feature that makes August the best for rentals and Airbnb's is the 'Door Sense' feature which lets you know when a guest doesn't close the door properly. The door Sense feature ensures that anyone's small mistakes don't cause your house any damage in the long term. Besides that, another part is automatic locking, which can help if a guest forgets to close the door after themselves and after record time, the door locks prevent any harm.
| | |
| --- | --- |
| Pros | Cons |
| Simple and easy installation process | Requires a Z-wave bridge |
| Door sense feature notifies proper locking | |
| Send digital keys via application to any guest | |
Yale Assure Smart Keypad Lock
"Yale easily connected to my phone, and now I can monitor my place even when I am not there."

– Home Rook
Dimensions: 1.5 x 2.5 x 4 inches
Weight: 4.54 pounds
Color: Satin Nickel
Finish: Brushed Nickel
Style: Key Free Keypad
Do you feel paranoid about giving your house away because of the security risk? Do you fear for your guests' safety? What if someone picks your lock or breaks it? Yale Assure is an entirely keyless lock that assures safety, as unlike most mechanical locks, no one can pick it or break it into it. Yale gives you a complete digital and safe experience which blocks all sorts of mal-entrance attempts. Head on over to amazon right now to get on board with the best safety program for your Airbnb.
Features of the Yale Assure Smart Keypad Lock for Airbnb
Yale has a traditional 'safe lock' design with a backlit keypad that is also visible in the dark and prevents digit damage. The keypad unlocks the door with your specific pin. After entering your house, you can close the door by either pressing a pre-assigned key on the pad or enabling the auto-relock feature.
You can easily connect your smart lock to your intelligent home systems such as Alexa or Google Home and as well as your smartphone Z-Wave smart home system and an app. After connecting your phone to your Yale system, you will be notified about the entrance and exits of guests at all times as small updates on your phone. There is mounting hardware in the packaging, so replacing your old lock would take less than thirty minutes just with the help of a screwdriver. You don't have to ever worry about losing your keys or your guests losing them because this a completely keyless system that no one can pick into and open, unlike mechanical locks.
All in all, Yale is one of the best security systems available for rentals that keeps thieves out and your guests inside with the utmost safety.
| | |
| --- | --- |
| Pros | Cons |
| Keyless system is difficult to break | Does not fit the standard deadbolt lock |
| Backlit keypad | |
| Constant updates on your smartphone regarding entrance and exits | |
| Customizable time setting for auto lock | |
Kwikset 99420-001 Programmable Keypad Door Lock
"I like the code system on Kwikset; it is unlike anything I have ever seen, I bought one for my condo, and I have never faced a problem with it."

– Home Rook
Dimensions: 3.99 x 4.24 x 9.74 inches
Color: Satin Nickel
Style: Modern
Finish: Satin
Material: Metal
If your Airbnb is an area where you don't get good Wi-Fi, how will you ever use your smart lock? Well, no need to worry because the new Kwikset is Bluetooth enabled, which allows you to monitor your Airbnb's smart safety within the Bluetooth range and assign keys to your guests checking in at any time without a network problem. If your security is at risk because of bad Wi-Fi, switch to Kwikset right now.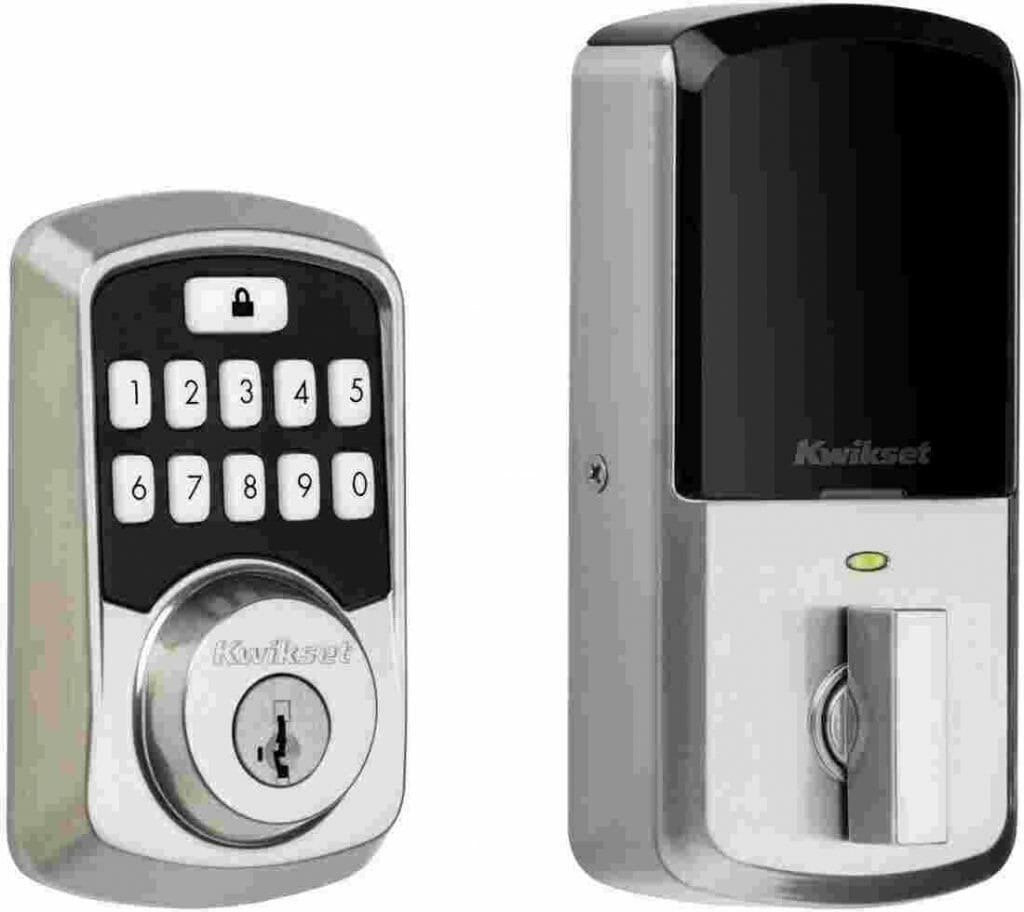 Features of the Kwikset 99420-001
Most smart locks work on Wi-Fi, but some particular vacation spot Airbnb's cannot access Wi-Fi, and thus their locks do not operate well without Wi-Fi. However, Kwikset's new Bluetooth lock is a caption because, with the new system, you can easily monitor your door from within the Bluetooth range using your app. The Kwikset app helps you open and close the door from anywhere within the Bluetooth range. The incredible feature of Kwikset is the code system; you can make up to 250 different codes and customize them with specific times and access for days, weeks, or even minutes.
Moreover, if you want to share monitoring your door, you can share it with up to 8 users, your family members, or your staff that allow the guests in and out. The scheduling system is unlike anything else; you can make a code, set a time and date of it, or even delete it at any time that you want, this way; you get new keys all the time, and you don't have to fear for the safety of your Airbnb after your guests leave.
The constant notifications on your phone will help you monitor your door at all times and know when your guests are entering and leaving the gate.
| | |
| --- | --- |
| Pros | Cons |
| Connect the lock with your smartphone and monitor it 24/7 | Installation process is lengthy and confusing. It's better to hire a professional for installation |
| 250 customizable codes for your guests | |
| Lock and unlock the door with your phone | |
Kwikset 99190-001 Premis Door Lock for Airbnb
Some keypads are easy to hack into because the fingerprint patterns from the codes are apparent. It can be a safety hazard in the long run and ultimately force you to convert back to a mechanical lock, but Premis has the perfect solution for its Secure screen feature. Now you never have to worry about your fingerprints on your screen and hacking. If you want the smartest security update, then get yourself a Premis today!
Features of the Kwikset 99190-001 Premis
Kwikset is one of the smartest locks in the market for rentals and Airbnb's because of its many detailed security features. It is a touchscreen system that is highly compatible with your smartphone and your intelligent home systems. You can even use Siri to answer your door and lock or unlock it; along with that, you can also check your lock history at any time you want.
There are advanced features in the new Premis; it has many alarms for incorrect codes and auto locks in alarming situations, helping you deal with wrong entries. Kwikset allows you to form a scheduling system and share it with up to 30 users; in this scheduling system, you can customize entries, times, and access. In addition to that, you get a SecureScreen feature that randomizes the numbers before and after entering a code. It prevents fingerprint and code detection. You can customize your alarms with regulations and keep a master code for changing or deleting guest codes.
| | |
| --- | --- |
| Pros | Cons |
| Easy lock and unlock via Siri | Not compatible with android phones |
| Schedule system to make organized guest list with access | |
| SecureScreen technology to prevent code detection | |
| Secure mode disables all entry codes in case of emergency | |
Yale Assure SL-Key Free Smart Lock
"I love that Yale Assure is a dual system. I don't always carry my phone, so this works the best for me."

Home Rook
Dimensions: 1 x 2.5 x 3 inches
Color: Oil-Rubbed Bronze
Style: Apple Homekit Enabled
Material: Steel
Finish: Brushed Bronze
Renting out your Airbnb is a lot of work, especially if you are continuously receiving guests; the check-ins and outs are not safe if they are random with the same keys or codes. Yale ensures your safety with its extensive scheduling system, which allows you to create daily schedules for your check-ins and keep your security high at all times. If you are running a business and want a 'professional system' to lend you a hand with check-ins and scheduling, investing in Yale assure is your best bet.
Features of the Yale Assure SL-Key Free Smart Lock
Yale Assure is your best Apple home product, and it is customizable with every apple product like the Apple TV (4th gen and upper models).  You can also use Siri to lock and unlock your door or check up on your door from time to time from your phone or Apple TV even. All you need is a screwdriver to install it in place of your old mechanical lock, and it entirely replaces your deadbolt or standard locks.
If you are worried about leaving your phone inside or anywhere else and not knowing how to open the door, you don't need to miss your old key lock, and you can easily use the pin code. You can adjust about 25 of these codes, and either can give them to your guests or use them when you lose your phone. There is also a 9V terminal if you run out of battery, so never get locked out of your house. You can also design a daily scheduling system to assign codes and even customize the date, time, and access to these codes for efficient use.
| | |
| --- | --- |
| Pros | Cons |
| Dual lock with pin code | Not compatible with android phones |
| 25 users can use this lock with their own pin | |
| Daily scheduling for easier access | |
| Compatible with Apple devices | |
August Wi-Fi Airbnb Smart Lock
"The smallest lock and installs instantly; I didn't even take out my last lock. It works like a charm."

Home Rook
Dimensions: 2.8 x 2.8 x 2.75 inches
Color: Silver
Material: metal
Finish: Powder Coated
Weight: 1.52 pounds
Do you want additional security for your Airbnb? Do you live away from your Airbnb and want to keep an eye on it as you lend it to people? August Smart lock is the best fit for you as it makes sure you are never left out of the loop with real-time updates and additional features like facial recognition to upgrade your security.
Features of the August Airbnb Smart Lock
August is the future of security systems, and you can lock and unlock your door from anywhere after connecting it to your smartphone. It can also connect to your smart home systems without any additional bridge or hub, unlike most smart lock systems.
You don't need to take out your old lock at all; it easily attaches to your existing deadbolt lock; you can even stick to the inside of your door without any problem and call it a day. So if you want to use your old lock and keys, you can do so. Your smart system would recognize whenever you arrive and automatically open. You can also turn on the auto-lock option, and then it can close whenever you leave the house. By connecting your smartphone to the August smart lock, you can easily make a scheduling system and send codes to your guest, granting them access and revoking the access after leaving.
There are several advanced features such as fingerprint and face recognition for you, so then you can monitor your lock from anywhere for your guests.
| | |
| --- | --- |
| Pros | Cons |
| Finger and facial recognition | Might face some issues to connect with the Wi-Fi |
| Compatible with all smart homes | |
| Automatic locking system | |
| Make schedules and send security codes to guest at any time | |
Best Smart Lock for Airbnb Buyer's Guide
With the dawn of the internet, interconnectivity has opened various new possibilities for all businesses worldwide. Through the invention of smart locks, homeowners can safely rent their house to services such as Airbnb with relative security still over their place even from miles away. Smart locks allow considerable relief and safety to both the owner and the renter through not only assuring guard against unwanted visitors or pesky intruders they also will enable the owner to give access to their guest. You can change the access every time they rent the house to ensure that any illegal extended access does not occur.
Not only do smart locks allow the owner to access the control to the door, but it also allows the user to control the time each access key entry lasts. While not even requiring the owner to be near the vicinity of the smart lock physically, all of this makes this super convenient and reliable for any homeowner wanting ease and security from one safe solution. The only problem that arises here is that most professionals regarding this specific professional suggest that you utilize only the best smart locks available in the market.
While this, at first, may seem like an impossible proposal considering the numerous amounts of smart locks out there in the vast market, it is not as it seems. Most people who tend to buy such hardware without looking about it beforehand tend to be disappointed by the result and then criticize the advancement. Through this buyer's guide, we hope to educate you regarding the topic in question and familiarize you with what you would want in a smart lock before you buy one. It will allow a satisfying buying experience and an enjoyable user experience with the up-and-coming trendy technology that has the world changed for the better.
Although there are many factors to choose from when buying a smart lock for your Airbnb, here are some prominent factors that would allow you to choose the one that most encapsulates your tastes.
Do these best smart lock for Airbnb have a proper application through which we can access the smart lock?
We live in an era where everything can be handled or controlled through the flick of a touch on a mobile application. It comes as no surprise that the application through which you control your smart lock is crucial before buying the product, as mentioned above. The reason why the application matters so much are simple. You will use the application to control everything regarding your smart lock. It includes assigning a key to the visitors and keeping a watch over the residents entering or vacating your property's premises. Not only that, but you would also need to know about the battery life of your smart door lock; you would not want it to power down when you need it the most.
Considering the facts mentioned above, it is no surprise why the application is an integral part of the smart lock system. You would also need to allow the visitors to download the application to access the house's workings. This application would need to be compatible with all smart products to allow available connectivity options as well. Another factor you should consider regarding the application is that it should be significantly user-friendly. If you cannot navigate the application the first few times you have used it, it is undoubtedly not user-friendly.
The problem regarding user-friendliness is a more deep-rooted issue than you think it is. For instance, even if you, the owner, become accustomed to the application's not user-friendly interface, you can't say the same about your customers. Your customers, who are there to stay for only a specific period, will not only be generally discomforted but may also feel the whole experience itself to be significantly lacking to their liking. It may or may not result in a decrease of customers overall as they would prefer a home with more straightforward navigation than one with difficulty accessing the application. Some customers are well aware of the digital world than others, but pleasing all ranges and types of customers is the owner's job, in this case, you.
The application should be significantly user-friendly to allow proper instructions for usage for the customers. Suppose the owner is not able to understand the application interface. In that case, they will, in turn, not be able to explain it to the customers adequately as well, which may result in misuse of the smart door features. This misuse can be either intentional or unintentional by the renting party, but the blame will fall to the owner, which will result in a total disaster for the owner in the end.
Do these smart locks for Airbnb have proper connectivity functions?
The bulk of modern technology that is wireless is powered today through invisible means such as Bluetooth and Wi-Fi. Smart locks are no exception to this rule. They are also mostly accessed through either feature through connections to control devices like smartphones or smart home devices like Amazon Alexa or Google's Google Assistant. The essential factor to consider here, however, is which connectivity options are available at your disposal. If your smart door lock makes use of Bluetooth, you would be happy to know that it does not require the presence of high-speed internet but, in turn, has a considerably shorter range as compared to its counterpart.
On the other hand, Wi-Fi has both a considerably more extensive range than its competitor and is more reliable and faster than Bluetooth in every way imaginable. If your smart door lock has the connectivity option to both or Wi-Fi, be sure to not only acquire reliable internet but make the speeds considerably fast as well. A good experience is critical in businesses such as Airbnb. Providing a good response time to remote access connection is vital to prevent any unfortunate hic-ups in a customer's experience. Guest who will struggle to open locks due to poor internet connection will not only have their experiences considerably ruined, but they will be exceptionally displeased at the management, which is, in this case, you, the homeowner.
The only safe and reliable way to avoid such an unfortunate outcome to both business and reputation would be to get yourself the best Wi-Fi configuration suited for your smart lock. That means get yourself an internet connection that is both fast and reliable. Although considering our day and age, this should be the least of your troubles.
How much is the battery life of these smart door locks?
Like with all gadgets that tap into our interconnected world's esteemed digital dimension, smart door locks are also powered by a battery source. As such, you would need to make sure that whichever intelligent door lock you buy have long-lasting batteries. The point of having long-lasting batteries is not new to anybody and does not require much thorough explanation. If a smart door lock cannot remain on batteries for several months or even years, it probably is not the best choice.
Changing the batteries non-stop for weeks-on-weeks end is tedious and can serve as an interrupting experience for the people who rent your house. Not only will they have to worry about the battery on their smart door locks continually. Once it is out, they will not be able to access any of the intelligent door locks digitally until you replace them, which is a less than appealing experience for anyone who does not derive pleasure from the formwork. Another factor to consider is to get yourself a smart door lock system (or intelligent lock systems) which either notify you or the user regarding the state of the battery or when the battery is getting low through the application used to access it to allow timely action.
Does it have integration with other smart devices?
Although the age of smarts lock is a significant step into incorporating the digital world into our daily lives, you can go one step a notch through the addition of a smart device. Smart devices are devices capable of taking human commands and acting on them with the added benefit that they can also control devices that are compatible with them. In layman's terms, this means that through the addition of digital devices, you will be able to access smart door locks through simple voice commands, open or close door.
Most smart door locks available in the market come with intelligent home integrations but still if you would like to have a smart home integration, look out for the product's features. Smart door locks can integrate with some smart home devices, including Amazon's Alexa, Google's Assistant, and even HomeKit. Although HomeKit can connect directly to some intelligent locks, other devices such as Alexa require a hub through which it would need to connect to each respective device. Thus, if you are a user who is intrigued by the act of having every door of the house controlled through the command of your voice, buy a smart lock that supports intelligent device integration. For safe measures, also accept any other necessary accessories that are listed against the intelligent device or lock to allow the best and maximum compatibility with all of the devices you own.
Smart devices are an integral yet mostly optional part of a service such as Airbnb. Although they are handy and convenient for the homeowner and the person renting the house, they can be expensive. They are, however, worth every penny of the price. Not only do smart home devices follow every instruction to the letter of the person speaking, i.e., lock the door at this time or open the next door, you can also use it to perform menial or tedious tasks. You can set an operation on a smart home device commanding it to buy batteries online when the device realizes that the selected percentage battery is lower than the pre-recorded threshold, which shows that it is down. It will allow ease to the homeowner and the renter, allowing not only a comfortable experience but also a very lavish and extraordinary one for the renter and the renting parties.
Does your smart door lock have an easy installation process?
Most smart locks do not come already installed on a specific household. When buying yourself a fancy smart lock, be sure to look up the installation process of the safety in question. However, fancy or packed with features a lock is, it will be virtually worthless if you either install it incorrectly or will not be able to install it at all. The bulk variety of smart locks have different installation processes, and even a seasoned professional at installing one can be utterly clueless at installing another. Although some devices only take up to 10 or even 15 minutes, some can take up to 1 or even 2 hours!
The best option for you would be to buy a smart door lock to install any existing deadbolt. It is due to deadbolts being commonplace in many households as most households use mechanical locks instead of their more digital and fancier alternative. Smart door locks that make use of the already existing deadbolt door locks tend to be installed in either 10 to 15 minutes the time also depending on the user's capability in question. It is not an exact number, just a rough estimate on how much time it usually takes place from person to person, so do not be disappointed if it took more than 15 minutes for you; you may or may not be doing something wrong.
Smart door locks that tend to replace the existing ones, however, tend to take more time. Not only is the whole task a nightmare for someone who does not know what they are doing, but it will also do a permanent change on the state of your door, so if you are not a person who likes irreversible changes, consider the last option. It is both much faster and much cleaner. Coming back to replacing deadbolts, integrating the smart door lock like this would take up to one hour or even two hours if your attention span is minimal. Again, this is more of an estimate than an exact number, and depending on your skills or previous experiences with such technicalities, it may even take more time.
However, you must get the installation right, so even if it does take up more time than you expect, make sure you do it right, or else not only will you permanently damage your door, you would not even get the job done in the end. The choice of whichever lock to buy lies with you, the Airbnb room owner, in the future but do make your choice carefully and get enticed due to the plethora of features or design a smart door lock. Includes locks that even we have listed on our lists. If it is too much trouble for you to handle, it is best to settle with something that provides useful features and is also easy to install.
What are the grade specifications of the smart door lock you are buying?
Most people tend to ignore the grade specifications listed on a smart door lock. Like conditions in a contract or any other informative piece written on something, it can be very tedious to go through such things. Some people may not even have the time to afford such informative articles. However, they are essential to go through and may even serve to be the fine line between an excellent smart door lock and a very terrible one if there even is one available in the market.
Like with anything in this universe, smart door locks also have grading levels that define and certify smart safety's security level. These grading levels boil down to three ANSI grading levels, Grade 1, 2, and 3. Grade 1 implies that the lock has the highest certified rank insecurity, meaning the respective smart lock has the highest security standard. They are mostly used for commercial buildings to thwart any intruder from a very profitable business. Grade 2 and Grade 3 are more suited for home use, but the security level diminishes as the number progresses. While it is always the best to choose the highest quality standard, Grade 1, with excellent security, comes an even greater cost.
Grade 2 and Grade 3 certified locks are no stranger to adequate security and are certainly not on par with their grade 1 alternative in terms of security standards. It all depends on the budget you have in the end. If you can afford Grade 1 standard locks, we would advise that you would as it is the best, but Grade 2 and 3 are very suitable. You should not feel forced to buy the best; settling for a fine one is also a viable option.
FAQs to help you buy the best smart lock for Airbnb
Can guests check-in themselves?
Yes, your guest can check-in only if you allow them access by sending them their code. You can make these customizable codes and allow limited access for a specific time.
How can I cancel access from a guest?
You can cancel access from a guest using your app (Either Bluetooth or Wi-Fi connected) and stop their entrance to your Airbnb.
What kind of Smart lock is best for an Airbnb?
Whichever smart lock you choose to buy, make sure that it allows a scheduling or code system, so you can grant access to your guests and then change the temporary code once the guest leaves for new guests. Some good examples are Yale Assure Smart Lock, and August Smart lock.
Is there a danger of an old guest re-entering using his code?
No, once the guest leaves, you can immediately select a new random code for your new guest (which the app suggests in most cases), and the old entries cannot gain access.
Concluding our thoughts on the best smart lock for Airbnb!
We gathered a few of our best smart locks that you can install in your Airbnb for your convenience, which will make your check-ins easy and improve security for your house and your guests through a code system that is specific to your lock. Now you can select which lock suits your Airbnb the best, whether it's a Bluetooth one or a Wi-Fi one, and get yourself the one that has the features that would upgrade your Airbnb security experience.