We can all agree that smart plugs have, without a doubt, made our lives easier. They're great, small devices that can be a lot of help around the house. Their varying sizes and the wide variety of options in design make this device a must-have for every smart home.
Switching on lights and bulbs to turning an air conditioner off without manually switching the switch adds a touch of convenience. However, one function intrigues current users and potential buyers significantly about smart plugs: can smart plugs dim lights? Well. Let's have a look at what we found after trying some top smart plugs on the market. Keep reading!
Can I use a smart plug to dim lights?
Yes, you can use a dimmable smart plug to dim lights and even slowly dim them with every passing minute. However, only some specialized, dimmable smart plugs have these dimming capabilities. Smart plugs are primarily designed to completely cut off current or supply all of it to appliances. In contrast, dimming requires fluctuations in the voltage that is being supplied.
Can I dim lights with Amazon Smart Plug?
No, you cannot dim your lights with it. An Amazon smart plug does not inherently come with a dimming feature. This smart plug just fulfills the primary function of smart plugs, i.e., to switch your appliance on or off. For light dimming, it must regulate the voltage that it supplies to the appliance. An Amazon smart plug cannot achieve that.
Is Philips Hue Smart Plug dimmable?
No, the Philips Hue Smart Plug is not dimmable and you cannot use it to dim your lights. This device is also an average smart plug that cannot dim the lights connected to it. Even if you use a Hue dimmer switch with a Hue smart plug, your smart plug cannot acquire dimming capabilities.
Can Kasa Smart Plug dim lights?
No, the Kasa smart plug cannot dim lights. This is because this device just operates by controlling the flow of current to your connected appliance. On the other hand, dimming requires some regulatory action for the voltage being supplied. However, the Kasa Smart Dimmer Switch is probably one of the best dimmers out there that can help you dim your lights the smart way.
Can Wemo Smart Plug dim lights?
No, the WeMo smart plug by Belkin cannot dim your lights. It does not have the ability to fluctuate the voltage inflow to your lights but can just turn your lights on or off. However, you can use the WeMo WiFiSmart Dimmer to perform this function.
Can Alexa Smart Plug dim lights?
Yes, you can dim your lights with Alexa if you have paired it up with a smart plug or dimmer that has dimming capabilities. You can use your voice commands to operate the dimmer by specifying a percentage for dimming. For example, 'Alexa, dim light 1 to 60 percent.'
How do I connect LED lights to Alexa with a smart plug?
Using an Alexa-enabled smart plug to control the LED lights at your home makes it all the more interesting and convenient. Who wouldn't want to switch their lights on or off with one voice command? We would!
This procedure may sound like it's a series of complex steps, but don't worry. Use our easy, step-to-step guide to connect any of your LED lights to Alexa with a smart plug. We used a smart plug from Smart Life and an Android smartphone. Here's all you need to do.
Download the Smart Life application and set up your smart plug.
Following somewhat similar steps mentioned above, you can set up your smart plug in the application. Open your application and select the smart plug you've just added. Now, tap on the power icon you see on the screen to switch your lamp on or off.
Here's what ours looked like:
Open the Alexa application.
Go to your Alexa app and click on the icon with the three bars on the top extreme left corner of your screen to access the menu.
Open the Smart Home section.
After accessing the menu, tap on 'Smart Home' from the given options.
From the options given, tap on 'Add Device.'
Alexa will run a check to recognize the smart devices around it. Make sure that you have plugged in your smart plug and that it is powered on. You will find your device among the rest in the application after Alexa is done running the check.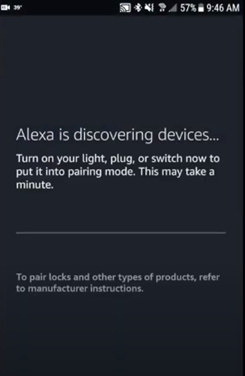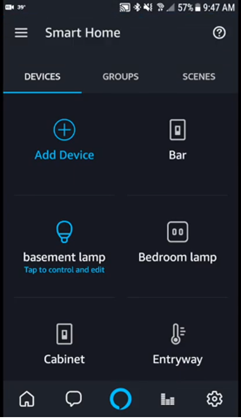 Control your smart plug and LED lights using Alexa.
You are now ready to turn your LED lights on or off with an Alexa-enabled smart plug. In the application, you can manually do this by tapping on the bulb you see below.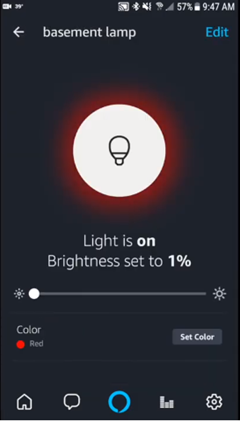 You are also now ready to give a voice command to turn your LED light on or off with Alexa. Just say, 'Alexa, turn basement lamp on,' and you will see that the lamp switches on. Well, that was easy!
Can you control lights with a smart plug?
Yes, you can control your lights with a smart plug. You can turn them on or off or set a schedule for either of these functions. If your smart plug has dimming capabilities, you can use it to dim your lights to any percentage that you like.
Lights, lamps, bulbs, etc. – all of these can be controlled with the smart plug if you have plugged them in. You can also control them while you are away from home if you have registered your devices and connected them to either Alexa or Google Home.
Most smart plugs do not allow dimming independently as they are only manufactured to turn your devices on or off. Many companies have dimmers for that function or even smart switches.
How to control lights with a smart plug?
Controlling your lights with a smart plug is very easy. The applications associated with these are pretty user-friendly, making the entire process self-explanatory for users. Most of the applications give you a step-by-step procedural guidance.
Let us, however, explain how you can set up one of the most famous smart plugs, the TP-Link Kasa Smart Plug, to control your lights. In this case, let's take the example of an ordinary lamp.
How to control lights with TP-Link Kasa Smart Plug?
The procedure is relatively short and would take you no more than 15 minutes (it took us about 5 minutes). Here's what you need to do.
Downloading the Kasa Application.
The first step would involve downloading the manufacturer's application. This is where you will be controlling everything that happens to your smart plug.
Plugging the smart plug into any power outlet.
Next, you need to plug your Kasa smart plug into the socket you have chosen. Wait for a few seconds until the plug starts blinking an orange light.
Adding a new smart plug in the application.
Open the application and tap on the + sign that you spot on the top right corner of your screen. Choose 'Device' when asked what you'd like to add. Next, choose 'Smart Plug' out of all the options displayed in front of you. Choose the correct model of your smart plug (ours was a Smart Plug Lite/Mini).
The application will display a text showing that it is checking your WiFi conditions. Enter your WiFi credentials to connect your smart plug to it. Now check if there is an orange and a blue/green light blinking on either side of your device (this shows that a connection is setting up). It will take a few seconds to connect. Now press 'Next.'
Name the smart plug according to the lamp that you have decided to connect to it. For example, you could name it 'left side lamp' or 'round table lamp.' Whatever seems friendly to you. We went with a 'study table lamp.'
Setting an icon for your device.
The application presents you with several graphical icons to choose from for your device. Pick the one that suits your device's nature/shape best. You are also given the choice of importing a picture from your phone's gallery or taking a picture at that time for a customized icon. We went with a standard table lamp icon.
Completing the set-up process.
The smart plug will be successfully added to your 'Device List' once you've completed all of these steps.
This update would be necessary as the smart plug you have just connected needs an update after sitting idly in the company's warehouse. Update the firmware when prompted. Now, you're good to go.
Connecting the lamp to the smart plug.
Plugin your lamp into the smart plug, making sure that it is secured appropriately.
Using the application to switch your lights on or off.
Now you can press the power button on the extreme right of your smart plug to switch it on or off. This would automatically control your lights.
A blue-highlighted power button means on, whereas a power button that isn't highlighted indicates that the plug (and your connected lamp) will be powered off.
Do smart plugs work with LED lights?
Yes, smart plugs can work with LED lights. All you must do to make this happen is plug the external switch of your LED light/lamp into your smart plug. Use the application associated with the smart plug (usually the manufacturer's application or even Alexa or Google Home if you have paired them up) to turn your LED lights on or off.
Conclusion
By now, we have established that most smart plugs, even the best ones out there, cannot help you dim your lights on their own. However, that does not defeat their purpose. They were designed to fulfill one function – switching an appliance on or off – which they do best.
Besides lighting, there are other ways of utilizing these plugs, especially for appliances connected to sockets that are not reachable easily. What a hack for that! Nonetheless, suppose you still wish to have a smart device with dimming capabilities. In that case, you can invest safely in a smart dimmer switch. New smart solutions keep evolving to help deal with all sorts of home automation problems. So, do not be disappointed!
Related articles
Recent Posts