Ring Doorbells have gradually made their way into numerous houses as one of the key components of a home security system. These Ring Doorbells are very easy to install and use. Keeping a watch on the visitors that ring your doorbell or those who enter your house at any time is something that makes users choose smart doorbells. Moreover, these smart video doorbells have cameras installed in them, which are responsible for helping you view the scene outside your main door and alert you as well if the motion sensors of the camera detect any kind of movement.
A noticeable feature of Ring's doorbells is their ability to 'see' and make you 'see' what is happening right outside your main door, even at night. This is possible because of the device's night vision feature, making it possible for you to see via the camera, even in low light conditions. The device's camera uses infrared light to create black and white images for you to view through your Ring application.
Ring has also introduced a color night vision, which adds color to the footage that is captured or recorded during the night or in low light conditions. The device adds false color to help you get a better understanding of what is happening.
The night vision comes with great perks and ease for you. However, there are times when you might face trouble with it. Having their Ring Doorbell stuck in night vision is a problem that many users have faced and reported, often worrying about what might be wrong with their device. Let's take a detailed look into why your Ring Doorbell might be stuck in night vision and some troubleshooting steps that can help you fix the problem.
Why is my Ring Doorbell stuck in night vision?
Your device could be stuck in night vision either because of ineffective infrared settings or due to your device's inappropriate placing. Black and white images and videos from your Ring doorbell mean that your device has activated night vision. You may wonder how you can tell if your Ring Doorbell is in night vision. In the infrared night vision, you will see three red dots on your device.
How is night vision turned on? This night vision is automatically enabled on your smart doorbell if the device's sensors inspect and observe low light conditions, making it harder for the camera to show you clear images or videos. This infrared technology turns the night vision off automatically once the camera in your doorbell starts catching sufficient light.
The main reason why your Ring Doorbell might be stuck in night vision is its placement. This could be directly linked to a lowly structured porch, which may act as an obstruction in illuminating the area in front of your Ring Doorbell. Other than the porch, it could be something else that blocks out the light, depriving your device of the sufficient amount of light needed to switch back to the normal mode during the day. Other times, your incorrect infrared settings could be the culprit behind this issue.
How do I fix my Ring Doorbell night vision?
Many users have reported facing this issue. However, the company is yet to issue any updates that tend to the problem effectively. Nevertheless, there are some troubleshooting steps that you can follow to help fix your Ring Doorbell stuck in night vision. Here's what you can do:
Your infrared settings may be faulty. How to adjust your infrared settings in the App?
Infrared settings on your Ring application should be set to automatic for your Ring Doorbell to switch between night vision and daylight mode smoothly. Check your settings in the App to make sure they are set on automatic. Follow these steps to do that:
Open your Ring application.
In the top right corner, you will see three dots. Tap those.
Tap 'Device Settings'. You will see a gear icon near your Ring Doorbell there. Tap that.
Under the 'Video Settings' tab, tap on ''Night Vision.'
Set your night vision to 'Auto' here.
Note: We recommend that this be the first troubleshooting step you follow. It would hardly take you a few minutes, but you will have high chances of fixing your Ring Doorbell stuck in night vision.
You may need to reboot your device. How to Reboot your Ring Doorbell?
Rebooting a smart device tends to fix many issues. The same goes for your Ring Doorbell. Rebooting it can help you fix a night vision issue in no time. Here's how you can reboot your Ring Doorbell:
There is an orange-colored button at the back of your device. Locate that first.
Press and hold this button for at least 15 seconds.
Check the front of your device. If you see a light flashing there, it is an indication that your device is going through a reset.
Let your device be for 5 minutes, which is the maximum time it could take for the reset to complete successfully.
Note: Keep in mind that for a hardwired Ring Doorbell, you will first have to remove the device from its power source before initiating the reset process.
The environment around your device may be unsuitable. How to adjust your Ring Doorbell's placement?
As stated before, this is one of the major reasons that could contribute to your Ring doorbell's faulty vision functionality. A certain amount of light is necessary for the device to switch back to its color vision. Recently, the company has mentioned lowering the threshold for this amount.
Go to your porch and analyze the environment around your device. Check the amount of light that falls on the area your doorbell is placed in. If your porch is hanging too low, you know where the problem lies. If you have a battery-powered device, you can detach it from its hinges and change its location. While doing so, keep checking the Live View from your Ring application to see if the device reverts from the night vision and gives you a colored vision. If your device is hardwired, you may need an electrician's help to find an adequately luminous spot for your smart device.
Also, it would be wise to check for any bushes or trees that may be blocking light. Examine the environment carefully and see if trimming any branches would solve the problem. This might work for you, saving you from the hassle of shifting your device from one place to another.
Contact Ring's Support Team
If you have tried all of the steps mentioned above and your Ring Doorbell is still stuck in night vision, your best and only option now would be to contact the company's technical support team for help.
The support team might visit you if the troubleshooting steps they suggest don't work. They would check your unit or adjust some brightness or exposure settings to fix the issue. They would also advise you on any replacement and let you know if you would be eligible for a free replacement from the company.
Contact the support team here.
Note: Make sure you follow the previous steps before resorting to this action to save yourself from unnecessary hassle.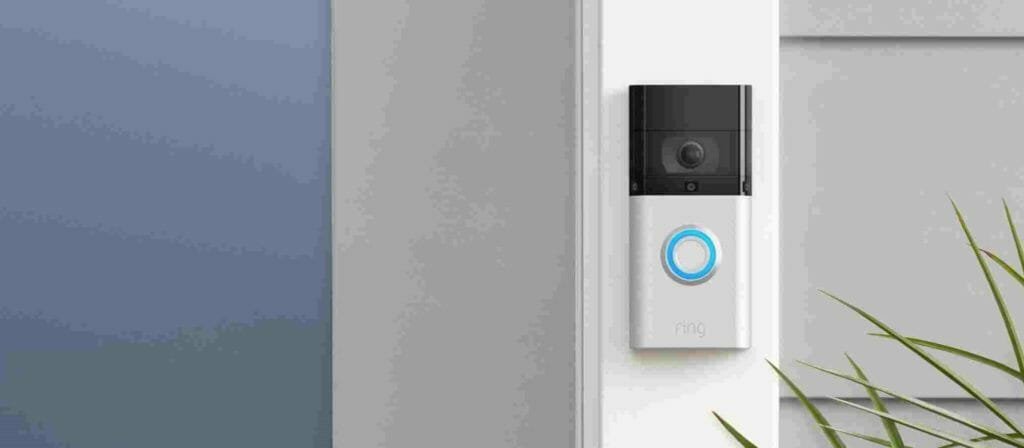 FAQs
Why is my Ring Doorbell dark at night?
This may be because it is too dark outside for your night vision to capture relatively clear footage. You can try enabling the HDR feature on your device to see if the footage clears up a little.
Why is my Ring Doorbell only showing black and white?
Your Ring Doorbell shows images and videos in black and white when it is in night vision mode. If you face this problem during the daytime as well, it is probably because your device is stuck in night vision.
Does Ring Doorbell 2 have night vision?
Yes, the Ring Doorbell 2 has night vision, which is supposed to be sharper and clearer than the preceding models.
Does Ring Doorbell 3 have night vision?
Yes, Ring Doorbell 3 comes with infrared night vision.
Does Ring have color night vision?
Yes, Ring has introduced color night vision for some of its security devices, including cameras and video doorbells. This feature allows you to see 'false' color footage instead of an infrared black and white one.
Which Ring Doorbell has color night vision?
The following Ring Doorbells have color night vision:
Note: It is worth mentioning that currently, only hardwired video doorbells (and other security devices) have the color night vision feature. However, the company is working on introducing this feature for other products.
What are the 3 red lights on Ring Doorbell?
The 3 red lights on your device indicate that the night vision has been enabled. On the other hand, flashing red light means that your device's battery is running low.
How far can a Ring Doorbell see at night?
A Ring Doorbell can see up to a distance of 30m away from its position. However, most users find that this range drops slightly during the night. This also depends greatly on the darkness in the environment around your device.
Final Thoughts
If you wake up one morning and find your Ring Doorbell still stuck in night vision in broad daylight, you do not need to panic. Fixing this issue shouldn't be a big problem for you. Unless you decide to change your device's position, it won't take you more than 15-20 minutes.
We have given you the three major fixes that will, in most cases, resolve the problem and return your device's vision to color. If all else fails, do not hesitate to contact technical experts from the company as they are dedicated to helping you have the best experience with the company's security devices. Be aware of your rights as a customer and make the most of the company's support!
Related articles
Recent Posts